Every multifamily project is designed with our BIM software by a team of designers who primarily have had extensive experience working as carpenters. Each contracted project has a salaried team assigned consisting of:
Project Manager
Lead BIM designer
Field Superintendent
Pick up foreman
Team production lead's for framing, joisting and sheeting
All of our management and design teams are English speaking
Design Method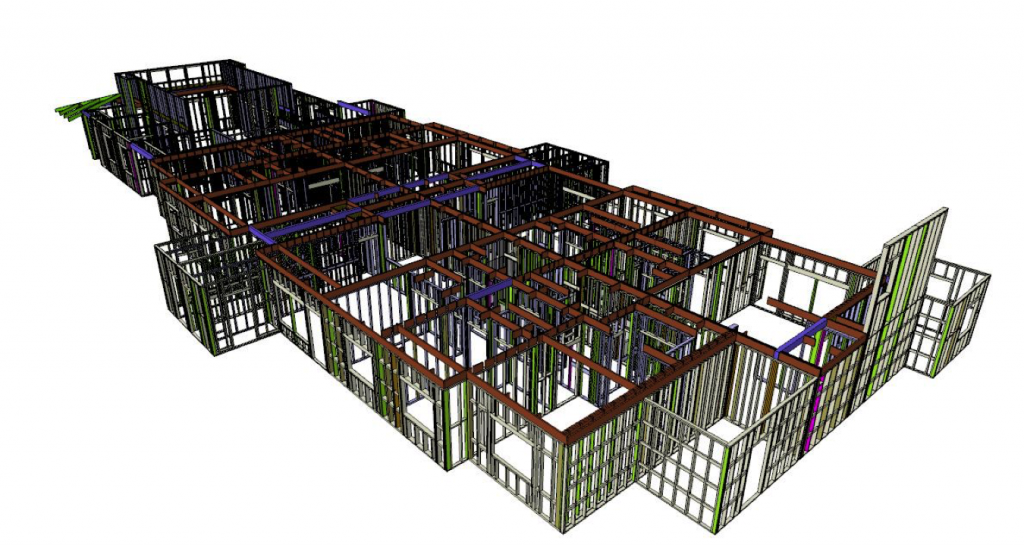 We use a BIM (Building Information Modeling) environment to model and coordinate rough framing issues such as: architectural requirements vs. structural, plumbing, HVAC, and electrical.
Using BIM, up to 95% of the framing issues can be resolved. After which, we can then build the major structural framing components at our off site facility.
Vetting majority of the issues prior to construction.
Team interacts in advance during cooperation process.
Coordinated model is utilized in the field directly.
Coordination process potentially saves time on critical path and schedule.
Cost savings related to future CO reduction.
Framing Methods
SPEEDY-FRAME™
BIM design & Coordination
Laser edge plate layout
Precision trim components
Walls manufactured on-site
Good for sites that have certain restrictions or environmental challenges.
PANELIZATION
BIM design & Coordination
Laser edge plate layout
Precision trim components
Walls manufactured off-site
Consistent layout and framing unit to unit and floor to floor. Significant time saving on critical path.
Our Process in Simple Steps
Pre-Construction

We begin with the existing floor plans via CAD file or hard drawings.

Design & Engineering

Site layout includes locations of wall panels as shown in project design book.

Laser Etched

Lumber components are laser etched and cut to size in one operation. Tolerances are +- 1/16", this makes for consistent units and walls throughout the project.

Company Trucks & Outside Haulers

You get less site congestion, cleaner and greener worksite.

On-Site Assembly

Structural components are organized and assembled on flat tables. This allows for squaring of the walls, clean tight joints and assemblies. Each crew is working off of the wall books to insure that the correct grades are in place or fire treated materials are being used only where required. Each table has a QC supervisor monitoring the work. If the wood is defective or has white mold it is culled prior to assembly and never contaminates the site.

Finishing

Cost is same as a stick framed project. Project size, 100 units and up. Lead time is the key, at least 3 to 4 months prior to pre deck. Select the team, not all have a proven track record.
Now let's check out the benefits to working with Larrabure.